Interac e-Transfer is a very popular online payment method among Canadian gamblers. This transfer system is supported by several major Canadian banks, and a lot of online casinos that welcome Canadian players will accept both deposits and withdrawals through the Interac e-Transfer.
If you have a bank account in a Canadian bank, Interac is probably the easiest and cheapest way for you to transfer money in and out of online casinos. It is also a very quick and very secure solution.
Here are a few examples of casinos that accept Interact e-Transfer:
888 Casino
Grand Ivy Casino
AHTI Games
Boom Casino
ApuestaMos
Kassu
Playluck
Royal Panda
Casino Gods
BitStarz
Click the link to find more Interac e-Transfer casinos.

Interact – a very well-established transfer method
Transfer methods such as PayPal and Neteller are often mentioned as old and well-established payment methods, but they are babies compared to Interact. Interac was founded back in 1984 as an inter-banking service linking banks with other banks, but also with merchants.
The Interact network was created by the non-profit Interac Association; a cooperative venture between the large financial institutions Royal Bank of Canada, Canadian Imperial Bank of Commerce, Toronto Dominion Bank, Scotiabank, and Desjardins.
In 1996, the Interac Association created the for-profit Acxsys to launch new Interac services, including e-Transfers. Interac and Acxsys merged into the for-profit organization Interac Corporation in 2018.
Where is Interac based?
Interac is based in Canada. The head office is in Toronto.
Things to like about Interac
Well-established (has been around since 1984) and highly reputable
Supported by major Canadian banks
Most online casinos that welcome Canadian players accept Interac e-Transfers
Based in Canada, not in a banana republic
Fast and secure transfers
Flat fee ($1 or $1.50 per transaction)
You don´t have to share financial information (such as credit card details) with the online casino to use Interac for deposits and withdrawals.
You use your existing Canadian bank account to confirm transactions. No need for an additional system.
Interac uses bank-level security, including encryption
Things to dislike about Interac
The main (and almost only) downside with Interac is its focus on Canada. Interac was created for bank clients in Canada. If you have a bank account in a supported Canadian bank, it is a great transfer solution. If you don´t, it´s not.
Due to Interac´s focus on Canada, the only supported currencies are Canadian dollars (CAD) and United States dollars (USD).
The flat fee schedule can be expensive if you are doing tiny transactions.
What does it cost to use Interac e-Transfer?
Interac e-Transfer use a flat fee schedule instead of charging you a percentage of the transferred amount.
A transaction will cost you $1 or $1.50. Check the terms and conditions of your bank account to find out more.
Tip! Some Canadian banks have special deals available where bank clients can use Interac without paying a fee for online money transfers.
What currencies are available?
Interac is focused on Canada and the only supported currencies are the Canadian dollar (CAD) and the United States dollar (USD).
Is it difficult to set up an Interac account?
If you have a suitable Canadian bank account, there is no need to set up an Interac account since Interac is integrated into the banking system.
You will be using your existing Canadian bank account to carry out and confirm the transactions.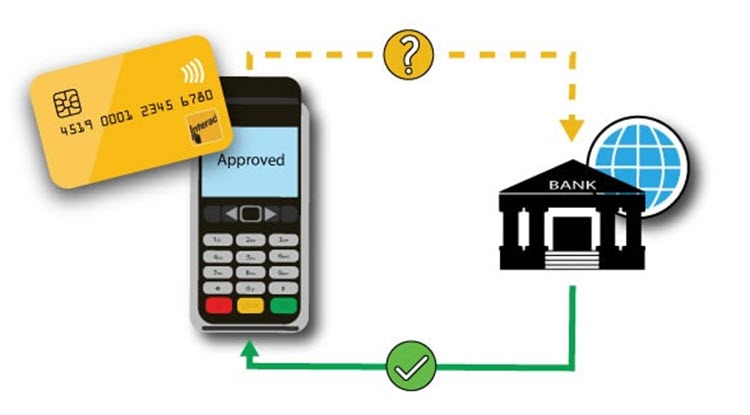 Funding an Interac account
Interac is not an e-wallet. You do not need to transfer money to Interac, and then move it to your casino account. Instead, the money is moved directly from your Canadian bank account to your casino account. There is therefore no need to "fund an Interac account". Simply make sure you have enough money in your bank account to carry out the transaction.
Is it difficult to fund my casino account using Interac?
No, if you have a suitable Canadian bank account the process is easy and straight forward.
Log into the casino.
Go to the banking section and select Interac e-Transfer as your deposit method. Follow the on-screen instructions.
Log into your Canadian bank.
Select the bank account you want to transfer the money from. Insert the amount.
Confirm the transaction.
The money should be visible in your casino account very quickly.
Can I use Interac to withdraw money from an online casino account?
Yes, Interac can be used for both deposits and withdrawals.
When you have completed a withdrawal request in the casino, you can expect the money to show up in your bank account within a few hours. This is very fast compared to many other common withdrawal methods.
To use Interac for a withdrawal, log into the casino and go to the banking section. Select Interac e-Transfer for your withdrawal. Follow the on-screen instructions. You will be required to log into your Canadian bank to select which bank account you want the money sent to, enter the amount and confirm the transfer.
Security
Interac uses Canadian bank-level security solutions.
You use your bank long-in instead of adding an additional method.
When using Interac, you do not need to share private information such as credit card details with the online casino.
For boosted security, Interac supports touch ID.
How can I reach the Interac customer support?
In most cases, the issue will be resolved quicker if you contact your Canadian bank instead.
If you need to get in touch specifically with Interac, you can phone them or send an email.
Interac phone support: 1-888-238-6433
Interac email support: Use the customer support form on the Interac e-Transfer website. Alternatively, send an email to etransfer_support@interac.ca.